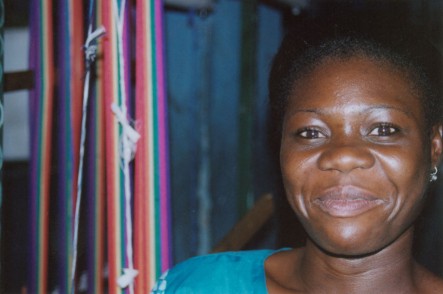 <![if !supportEmptyParas]>
<![endif]>
This is a story about a young woman who against many odds and with the determined thought, become victorious in her endeavors, and is an inspiration to all who meet her.
<![if !supportEmptyParas]> <![endif]>
In the year 2001, I had the privilege of traveling to Ghana, West Africa for a teaching assignment.  Also I had a wish to meet an exceptional weaver or weavers to further develop a passion for weaving, hand-woven textiles, and ancient traditions.  It was immediately clear to me that Matilda was a very special young woman.  I soon discovered that she had developed polio when she was a small child, however, this disability has not stopped her from realizing her dreams.  Here is the story of Matilda and her magical weaving village.
..
<![if !supportEmptyParas]> <![endif]>
Matilda was first inspired to weave when she was a small child and watched a women knitting.  She was instantly fascinated and knew that she wanted to learn some form of craftwork.  Matilda eagerly studied weaving when she was a teenager at a school in nearby Togo, a country just east of Ghana, not too far from her village.  After her studies, which she finished head of her class, Matilda returned to her village.  However, before she could begin weaving again, there were obstacles to be overcome.  Firstly, she didn't have a loom, as they were very costly.  Secondly, she did not have the adequate space in which to set it up the large loom and weave.  Time passed, and she patiently waited two years before she could finally acquire her first loom, the vertical kind. 
<![if !supportEmptyParas]> <![endif]>
Then, luckily, her father offered her a studio space near the house where she could easily walk to daily.  It is important to keep the looms inside as in the rainy season as the heavy rains can come anytime!  Another problem Matilda had to face is the thread supply.  The distance to travel to purchase the thread is far, taking almost 4 hours each way by bus to the nearest larger town.  Sometimes the buses breakdown and it can take days to get to the city.  And, what is very interesting is that the thread is imported from the United States and England! 
<![if !supportEmptyParas]> <![endif]>
Matilda immediately began to weave incredibly colorful, and highly detailed textiles
non-stop.  Soon the word spread around the village that she was indeed a talented weaver and there were many who expressed interest in learning to weave from her.  She decided to enroll those she could accommodate.  She soon acquired yet another loom, and they were off!  Matilda continued to attract a stream of eager learners, and many were waiting in the wings to study weaving at Matilda's Weaving Center.  People came from all over the region hoping for the chance to learn to weave.  Since opening her doors as a small weaving classroom in a tiny village, Matilda has graduated many students who have successfully completed the 16-month weaving course. 
<![if !supportEmptyParas]> <![endif]>
Matilda and her students are working towards her vision for the future of expanding the facilities of the school and add more looms, both in order to accommodate more students.  Her initial vision 10 years ago in her words, "to open a weaving school to help young women express themselves, learn valuable and self-sustaining skills, and to be positive female role models in the community." 
<![if !supportEmptyParas]> <![endif]>
She believes that the school creates an opportunity for young women and men to develop their talents, to be productive, and to prevent wandering the streets or wasting precious time because of lack of opportunity.  Her aim is to promote dignity and self-respect for the people of her village and those who come to learn to weave, express themselves creatively, and to develop valuable skills for life.
<![if !supportEmptyParas]> <![endif]>
Matilda's Weaving Center is actively and busily working towards creating abundance and beauty through their one-of-a-kind hand-woven textiles, mainly wearable shawls, which can also be used for home decorating purposes.  Recently, she has been seeking alternative resources for her thread supply.  She has connected with a group of elder women who are growing cotton and spinning.  She is currently in process of creating a long-term alliance with these spinners to supply her school with thread, while supporting their artistry of hand spinning. 
<![if !supportEmptyParas]> <![endif]>
These unique shawls are featured exclusively on the World Wide Weavers website.
Thank you for your support and for creating a better world for all.
<![if !supportEmptyParas]> <![endif]>

<![if !supportEmptyParas]> <![endif]>Copyright © 2001-2011 World Wide Weavers. All rights reserved